RESERVED SEATING WITH FOUR TICKET PRICE RANGES FOR THE ENTIRE SERIES
GOLD SECTION – First 4 Rows Reserved Seating For Entire Series – $135 For All 6 Shows
FUCHSIA SECTION – Rows 5 Thru 8 Plus Choir Reserved Seating For Entire Series – $105 For All 6 Shows
TEAL SECTION – General Admission Seats For Entire Series – $90 For All 6 Shows
NARTHEX SECTION – General Admission For Entire Series – $60 For All 6 Shows
ALL PERFORMANCES AT 7 PM
For Information on Complete Series Tickets or
Tickets For Individual Concerts Contact
Fountain Hills Presbyterian Church – 480-837-1763
2018
"Pat Covault Memorial Concert Series"
FOUNTAIN HILLS PRESBYTERIAN CHURCH
Tuesday, January 9, 2018
"Lasting Impressions" Starring Karen Grainger
Female Vocal Impressionist
Enjoying a successful career impersonating such greats as "Reba", "Celine Dion", "Cher" and "Shania Twain", she realized her talent had no boundaries which lead her to create a fresh new show entitled
"Lasting Impressions". Audiences are always spellbound by Karen's skill at recreating such diverse characters, capturing their voices as well as their mannerisms. Karen will take you on a journey from today's new voices such as "Lady Gaga", "Katy Perry", "Pink" and "Adele", all the way back to "Barbra Streisand" and "Willie Nelson". You won't believe what you'll be witnessing when she performs her signature duet
featuring "Michael McDonald" and "Patti LaBelle"!
Tuesday, January 23, 2018
The Tom and Shondra Show in
Along with additional musicians, Piano, & Vocalists
Some of what you will enjoy will come from the American Songbook 40's era of Frank Sinatra & Cole Porter, cool 50's favorites, rockin' 60's & 70's with some songs from Sonny & Cher, Nancy Sinatra, Neil Diamond and Tina Turner, to name a few. Add in a bit of country with Johnny Cash, a few beloved show tunes from the Broadway stage and a sprinkle of comedy and you'll have a complete fun & family-friendly experience in
"LIVE"
entertainment. It'll leave you cheering for more!
Tuesday, February 6, 2018
The Doo Wha Riders
High Energy Country with a Cajun Twist
There is no one else like The Doo-Wah Riders. For over 40 years they have been riding their own patch of the musical range throughout the west….well actually…..they can't just say it's only been the west coast anymore as The Doo Wah Riders are no strangers to being a part of performing for audiences all over the country sharing their sincere enjoyment for connecting and having fun using the gift of music.
The Doo-Wah Riders are country, with a unique original sound. They define their sound as "high energy country with a Cajun twist". Their tight musicianship and powerful arrangements of classic and original songs have made them favorites everywhere they go.
Tuesday, February 20, 2018
Dan Naynan
with opening Female Comedienne
Dr. Priyanka Wali
The only half-Indian, half-Japanese comedian in the world offering up the diverse content and delivery this performer presents. Clean comedy is next to impossible to find in today's world. STOP YOUR SEARCH FOLKS—YOU HAVE NOW FOUND IT!!!
Born in Indiana, this extremely inventive and uniquely clever young comedian travels the world bridging many gaps by his presentation of humor. Hysterically bringing together his realistic thoughts on the diversity of our multi-cultural society in North America today.
You will roar with laughter
at his takes on how we look at each other's differences.
With special guest…….Priyanka "The Doc" Wali, a rising San Francisco based stand-up comedienne, who routinely performs throughout the Bay area, including venues such as the Punchline Comedy Club, Yoshi's and The Purple Onion. Not only is she hilarious, she is also a practicing Internist (yes, a real medical doctor!) in the San Francisco area and truly believes that laughter IS the best medicine.
Tuesday, March 6, 2018
Starring Deborah Offenhauser
Concert Pops Pianist with Musical Trio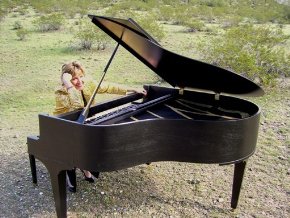 Ready for clean humor and Piano with Pizzazz? When renowned pianist, Deborah Offenhauser takes the stage, people take notice!!!
Her talent, smile, stage personality and over 20 years of experience, will keep you engaged throughout her show. You'll be thoroughly entertained with her full range of musical styles from classical to jazz, from easy listening to country, all while taking a familiar tune and giving it new life.
Deborah's music has been heard on the "new" hit TV show "Madam Secretary" and "The Big Bang Theory" as well as an old favorite, "Desperate Housewives" plus "The Weather Channel". Since her music can be heard all across the world on various radio airwaves, be aware when traveling as you might just hear a familiar sound.
Tuesday, March 20, 2018
Concert Pops Pianist with Musical Trio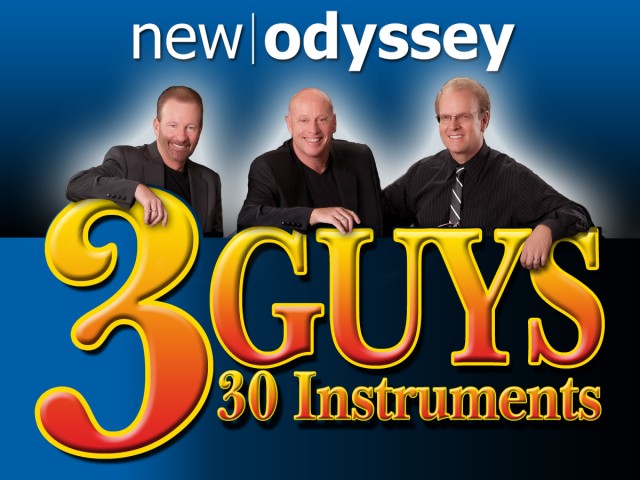 When New Odyssey hits the stage be prepared for a polished trio that's versatile, funny, novel, talented, family-oriented and awesome in presentation. New Odyssey has been together for over 30 years and has performed at literally thousands of functions, always to complete satisfaction and rave reviews from every audience. They say the
"secret for their success"
has been their ability to adapt to any audience.
Watching New Odyssey is an all-encompassing experience presenting outstanding arrangements of almost every style of music while all performed on
30 different musical instruments.
With a unique combination of great music, audience participating, sheer zaniness, mayhem you won't find in most shows, along with a few surprises during this show…….every audience member will walk away wanting more!