~ WELCOME ~
We welcome you and are pleased you stopped by our page.
This is a great way to
become familiar with
Women's Ministries of FHPC
We support a variety of gatherings, missions, Bible studies
and interest groups, for all women of our church family to
meet for fellowship and the sharing of common
interests in a Christian setting.
_____________________________
Mary & Martha Ministry
Fellowship, inspiration, and mission
Serving Him
Faithful to my Lord's commands,
I still would choose the better part;
Serve with careful Martha's hands
And loving Mary's heart.
Charles Wesley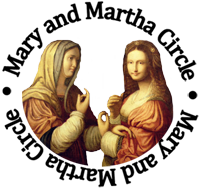 Fall, Winter and Spring Gatherings

Large group events, each with a different program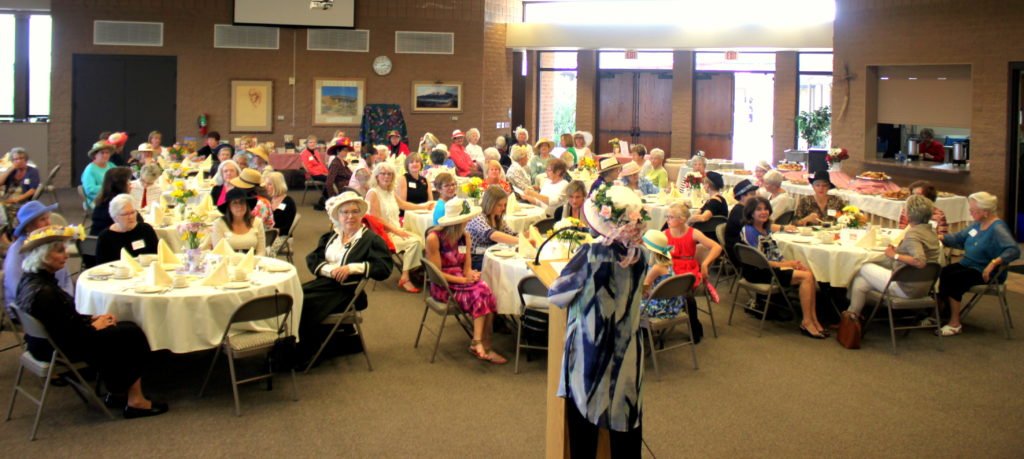 Women's Sunday
Women of the church, led by Mary & Martha Ministry,
present a Sunday Worship Service in January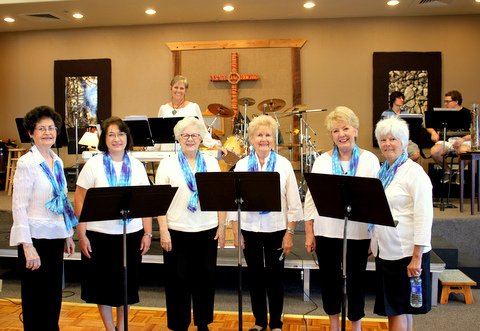 Mission Focus
Local, Devereux Treatment Center & School
A church-wide mission to provide Easter baskets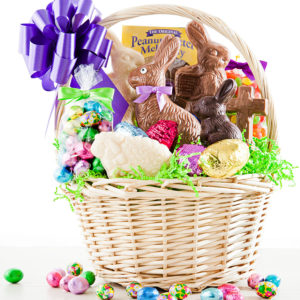 International, FeedtheKids Food Ministry, Haiti
Supports the food ministry at a satellite school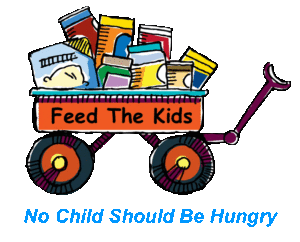 _________________________
Women's Monthly Bible Study Circles
2018 Study, Christ in the Psalms, Stonecroft
Second Thursday, 9:00am, Adult Center
Contact: Monique Reynolds
2018 Study, Christ in the Psalms, Stonecroft
First Monday, 1:00pm Fountain View Village
2018 Study, Cloud of Witnesses, Horizons
Third Monday, 7:00pm, Home of Maria Berry
New participants are always welcome!
_________________________
Interest Groups
Hooked on Books
Fellowship and book discussions
Third Wednesday, members' homes, 9:30am
Contact: Carol Fuls 480-836-2346 or
Elsie Hoffarber 480-837-4518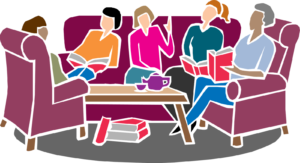 Out and About
Fellowship and good food
Third Wednesday, local restaurants, 12 Noon
Ladies Drop In
Fellowship, board games, cards
and conversation
Tuesdays, 10:00am – Noon, Fireside Room
Contact: Maria Berry,

berry8@cox.net
Linda Warren,
lwarren4@hotmail.com
_________________________
Women's Reading Book List 2016-2017
Fiction:
The Secret Wisdom of the Earth
Christopher Scotton. After witnessing the death of his younger brother in a terrible home accident, fourteen-year-old Kevin is sent with his grieving mother to live for the summer with his grandfather in a coal town in Appalachia. Kevin learns how to live with his grief with the help of his grandfather and a boy who lives in the hollow.
The beach street knitting society and yarn club
Gil McNeil. Jo Mackenzie, newly widowed with two young sons and no money takes over her Gran's wool shop in her sleepy seaside hometown. There, she organizes a knitting group that meets every week to trade gossip and support each other. The story is heartwarming and funny.
Orphan Train
Christina Baker Kline. Molly Ayer is close to "aging out" out of the foster care system. A community service position helping an elderly woman clean out her home is the only thing keeping Molly out of juvie. As she helps Vivian sort through her possessions and memories, Molly learns that she and Vivian aren't as different as they seem to be. What they have in common is a little known episode in American history–orphan trains.
The Aviator's Wife
Melanie Benjamin. Anne Morrow, a shy college senior hoped for a fairytale life when she married Charles Lindbergh. Flying with her husband made her a famous pilot. In spite of other achievements she is viewed mainly as
the aviator's wife.
Hotel on the Corner of Bitter and Sweet
Jamie Ford. Henry Lee, a widower of Chinese descent finds a crown gathered outside the Panama Hotel, once the gateway to Seattle's Japantown. The new owner of the boarded up hotel has discovered the belongings of Japanese people who were sent to the internment camps. Henry recognizes the parasol of the Japanese girl,
Keiko, with whom he was close friends before her
family was removed to a camp.
Mary Coin
Marisa Silver. In 1936 a young mother resting by the side of the road in central California is photographed by a woman documenting migrant laborers. The result is one of the most iconic images of the Great Depression. In the present day, a professor of cultural history, stumbles upon a family secret embedded in the now famous picture.
All the Light We Cannot See
Anthony Doerr. Marie-Laure lives with her father in Paris near the Museum of Natural History, where he works as the master of its thousands of locks. When she is six, Marie-Laure goes blind. When she is twelve, the Nazis occupy Paris. In a mining town in Germany, the orphan Werner grows up enchanted by a crude radio he finds. He becomes an expert at building and fixing these crucial new instruments, a talent that wins him a place at a brutal academy for Hitler Youth, then a special assignment to track the resistance. How their lives intersect is an amazing and unforgettable story.
Nonfiction:
Son of a Gun, a Memoir
Justin St. Germain. In Tombstone, Arizona, September 2001, Debbie St. Germain is shot and killed apparently at the hands of her fifth husband. For the author the tragedy marks the line that separates his world into before and after. Justin tries to make another life for himself, but is haunted by the murder. He returns to Tombstone to make sense of his mother's life and death. This true story is a parable for our time and our nation.
Crazy Woman Creek, Women Rewrite the American West
Linda M. Hasselstrom, Gaydell Collier, Nancy Curtis, eds. Crazy Woman Creek is a collection of prose and poetry written by 153 real women who live west of the Mississippi. They write of the ways they shape and sustain their communities. Women recall harmony found at a drugstore, at a powwow, in a sewing circle. Lively, heartfelt, urgent, enduring, Crazy Woman Creek celebrates community — connections built or strengthened by women that
unveil a new West.
Soldier Girls, the Battles of Three Women
Helen Thorpe. The author follows the lives of three women over twelve years on their paths to the military, overseas to combat, and back home and then overseas again for two of them. These women, who are quite different in every way, become friends. We see their families, their lovers, their spouses, their children. We see them work extremely hard, deal with the attentions of men on base and in war zones, and struggle to stay connected to their families back home. We see some of them drink too much, have affairs, and react to the deaths of fellow soldiers. Deeply reported, beautifully written, and powerfully moving. The book is a solid chunk of American history.
Outcasts United, An American Town, A Refugee Team
and One Woman's Quest to Make a Difference.
Warren St. John. Without the town's consent, Clarkston, Georgia was designated a refugee settlement center in the 1990s, becoming the first American home for scores of families in flight from the world's war zones–from Liberia and Sudan to Iraq and Afghanistan. Suddenly the town was filled with the strangeness of these refugees and their foreign ways. Luma Mufleh, an American-educated Jordanian woman founded a youth soccer team to unify Clarkston's refugee children and keep them off the streets. These kids named themselves the Fugees. At the center of the story is fiery Coach Luma, who relentlessly drives her players to success on the soccer field while holding together their lives– and the lives of their families–in the face of a series of daunting challenges.
Black Man in a White Coat, A Doctor's Reflections on Race and Medicine.
Damon Tweedy. When Tweedy entered medical school, he envisioned a bright future where his segregated, working-class background would become largely irrelevant. Instead, he found that he has joined a new world where race is front and center. Tweedy examines the complex ways in which both black doctors and patients must navigate the difficult and often contradictory terrain of race and medicine. Through the stories of his patients, he illustrates the complex social, cultural, and economic factors at the root of many health problems in the black community.
Just Mercy: A Story of Justice and Redemption
, Bryan Stevenson. Bryan Stevenson was a young lawyer when he founded the Equal Justice Initiative, a legal practice dedicated to defending those most desperate and in need: the poor, the wrongly condemned, and women and children trapped in the farthest reaches of our criminal justice system. One of his first cases was that of Walter McMillian, a young man who was sentenced to die for a notorious murder he insisted he didn't commit. The case drew Bryan into a tangle of conspiracy, political machination, and legal brinksmanship–and transformed his understanding of mercy and justice forever.
The Family Store, From behind the counter of an
old fashioned stationary store,
Susan Harrison McMichael. Susan, our friend from Mesa First Presbyterian Church, who is active in Presbyterian women at the local church, presbytery and synod level has written another delightful book! This one is about the years her family operated a stationery store in Mesa. The new venture seemed easy at the beginning but proved more difficult and interesting as Susan's family became a
part of important stories and events in their widely
different customers' lives.
It was the kind of store we will never see again